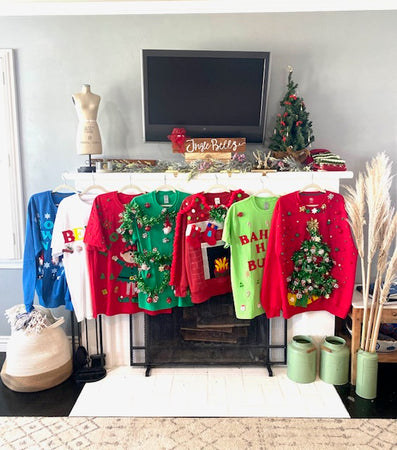 Momma Osa Tie Dye Experience With The Momma Osa Virtual Ugly Holiday Experience, we have created an Ugly Holiday Activity Kit that has everything you need to have an Ugly Holiday T-shirt or Sweater in a box. Perfect for companies that want to promote team spirit this Holiday season. Work w Momma Osa to create your own Ugly Holiday Tee Shirt or Sweatshirt. The Momma Osa Ugly Holiday Teeshirt/sweatshirt kits we have created a Kit that has everything you need to make hour own Ugly Holiday attire in a box. Just pick your color of Tee and your kit pack to create your own Festive Tee shirt or sweatshirt. Perfect for pre-holiday events. Create a competition for awards such as:
Most creative
Best execution
Ugliest creation
At least I tried
Hot mess award
Most spirited
Best following directions
Most clever interpretation
WTF award
The Most Extra
Never a dull moment
We cultivate a safe and social environment that makes your team WANT to turn on their zoom cameras. Nothing beats creating something with your own two hands and being able to wear it again. Please note: these T-shirts and Sweatshirts WILL NOT be machine washable after creation. They will be works of art..
---
How It Works
This experience is beginner friendly and will come with simple instructions. Your host will be with you to guide you through the basics of pinning, draping, sticking, cutting and gluing to show you techniques you can use to achieve different designs and patterns. Prepare for smiles and laughter as there will surely be a good amount of fun to be had while making your own Ugly Holiday teeshirt or sweatshirt… You are the Creator!
---
Experience Details
Before we begin you will receive a prep sheet and your Ugly Holiday Kit before the Party Date so you can be ready to go. Your host will run you through how to create the inspiration samples but you can also use your own creativity to do your own thing. Your host can help explain techniques along w showing you how to execute each design. Everything you need will Come in the kit to create your design.
What you will need from home: Tabletop w space to lay your supplies and your garment flat. Keep in mind, we will be using glue and some items that may shed a bit of tinsel so aprons are recommended.
---
Kit Contents
Ugly Holiday Tee/Sweatshirt Party in a box includes:
1 100% Cotton Tee/Sweatshirt in your size OR 1 XXX CONTENT crewneck sweatshirt
1 pair of scissors
1 mini fabric glue
1 Pack of safety pins
1 Alphabet stencil
Everything you need to create the style you choose. *** Some items will be substituted due to availability
Adult sizes available ( Please note, 2 XL and 3XL would be an additional $12.00)
Shipping Details
•The cost to ship is not included
• Shipping is ~$12 per shipment
• International shipping is based on actual address.
•PO boxes are available upon request.
---
Your Host: MommaOsa
Jen Cox has been making her own ugly sweaters for the last 15 years. She has traveled around the world as a fashion designer and to develop products for large companies. Recently, she has discovered love for teaching others how to tie dye by creating a curated 'Tie Dye Party' in a box for everyone to enjoy. And her recent launch of Virtual Ugly Tees and Ugly Sweatshirts. Her mission started with wanting to give back, so a portion of the proceeds from every purchase are donated to The Covenant House which helps offer a safe haven for Youth Homeless In Los Angeles -thank you for helping!
---